Get the deets on Karin BrushMarker Pro and why everyone is loving them!
If you follow any letterers on Instagram or have an interest in markers, it's likely that by now you have heard about Karin Brush Markers. These Polish markers are making big waves in the lettering and marker community, and yes the rave is real. They set themeselves apart from the rest with a flexible nylon tip, vibrant colours, and mesmerizing blending ability. 
A sturdy tip is important in lettering, and these super durable Japanese made nylon tips bounce back quickly. Instead of getting that drag or awkward bend in your tip when you are working with a brush marker, you can rely on these to return to their original form. Take a look at this quick video below to see for yourself! 
Another thing we love about these markers is the juicy vibrancy of their colour range without fraying (or "feathering"). With the Karin brushMarker Pro MegaBox, you get an array of colours and three blending markers. These rich and intense liquid ink colours allow for a diverse range of projects and subject matter. Speaking of diverse projects, these markers will write on a lot of absorbent surfaces - like wood! Take a look below from @karinmarkers instagram to see some of the lettering possibilities. And lefties, don't stress! if you're worried about smudging, it's just about finding the more absorbant paper to allow for a quicker dry time. Try using Strathmore Vision 9x12 student grade watercolour paper to start out.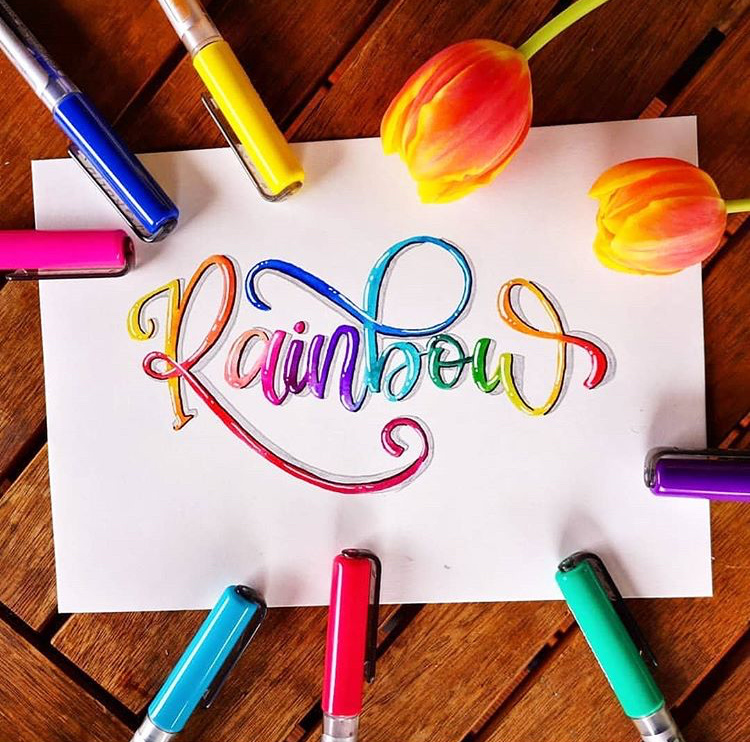 Not only do they work amazingly on their own, but you can mix and combine to achieve an even broader colour range! There are a couple different blending methods; one is to mark on a non-absorbant surface such as a plastic palette. Mark until there is as much ink as you want and then grab one of your colourless blenders and pick up the inks you have mixed together. You will get a gradation from light to dark in one stroke as well as beautifully blended colours. Another blending method is tip to tip blending with two colours or gradation of one colour by using the colourless blender. 
These amazing markers are incredibly hard to find in North America, and we are one of the few retailers that you can find them at. Visit our Karin Marker section here. All of our markers are available online or in store with shipping or pickup!