When you think of high octane racing, tricky traps and winner's trophies... you probably don't think of a card game, huh? But bring Shuffle Grand Prix (the first game from the internationally known Bicycle Playing Card company) to the table and your mind might be changed for the better!
Reminiscent of the classic 60's Hanna-Barbera cartoon Wacky Races or for those looking for something more modern, the Mario Kart video game franchise - between 2 and 4 players take turns picking out a driver and a co-pilot, shuffling their cards together and drawing three to their hand for the race to come.
Play is relatively simple with most turns consisting of four quick and easy steps per player:
Draw a distance card (either 25, 50, 75 or 100) and place it in front of you on your track
Use any begin of turn abilities (if you have any)
Perform a single action by playing a card from your hand
Optionally playing trophies you've earned for bonuses
And that's it! The racer who makes it the furthest by the end of the game is the winner!
On most of your turns, you'll only be performing steps 1 and 3 - which keeps the game moving fast - a great compliment to the cars that your drivers are racing. The cards that you have in your hand do a variety of things - letting you draw and play more cards, attaching upgrades to your car, laying down traps (but be careful, you aren't immune to some of their effects) or even directly messing with the other player's cars in order to get the advantage on them. Spinning out an opponent will award you the aforementioned trophies than you can cash in to play more cards - but is it best to focus on improving your situation or should you make sure that no one sneaks up on you? It's all a balance and it's one that constantly changes as play runs around the table.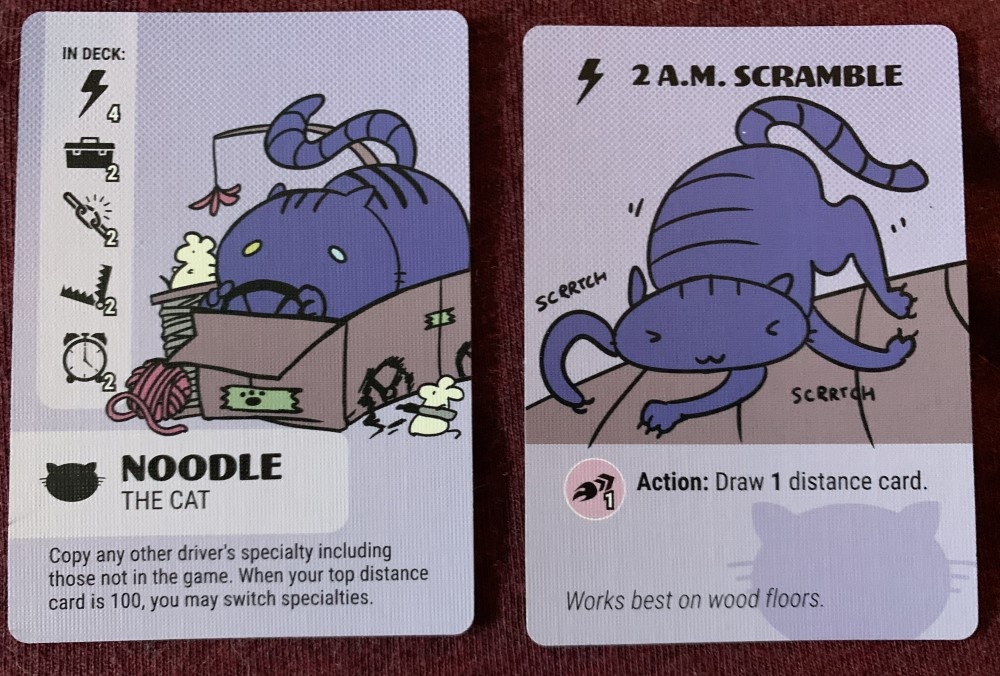 Without apology, this is absolutely my favorite racer in the game along with a card that is all too familiar to me as a cat owner.
I was able to give this a try a few times with 2 players, and once with 3 and 4 players. Each player count is a bit different, and while it plays best with 3-4 - I wouldn't write the game off as a casual 2-player game or even something to play between heavier game sessions. 
Because you have cards that target an opponent - it's going to be obvious what is going on when you're playing with just two, there's no getting around that. Sometimes that means that the game can lag a little bit - especially when the end condition is emptying the deck of speed cards. A perfect way around this is to make the game a sprint instead of an endurance race - something that I'll call a bit of a house rule because it isn't considered in the official instructions. You can do this simply by setting a physical line on the table that you'll call the 'Finish Line'. This way you don't have to play the whole deck and can instead focus on getting to the end as fast as possible! I found that this even works out if you're playing with four people but at the same time, nearly all the deck was used in that instance anyways so we just finished it off.
There's a lot of variability in the cards that come up, but you can get an idea for how each character is going to play because there's a card count for the 'type' of cards that they have in their deck when you go to select them. Selecting two drivers that compliment each other will leave you balanced while picking two drivers that specialize in one type of ability might work to your favour. Games are short so feel free to experiment! The components in the game are excellent as well - with sturdy cards and colourful tokens all placed into a great insert.
Want a closer look? Feel free to check out the product page right here on Endeavours & ThinkPlay to see an InFocus video straight from the authority on board games, Board Game Geek that gives a closer look at some of the cards and concepts! Also check out the recently released The Alpha, a game also put out by Bicycle!
Enjoy, and I hope you get the chance to play something fun today!